I've had a really, really hard time dressing myself lately. I mean, I am still working on getting rid of my postpartum "fluff"... bleh. But also, all of my clothes are all OVER my new house! I packed my stuff in garbage bags and somehow they are in the garage, basement, my daughter's closet, our closet... I feel like if I imagine an outfit, I'm running around trying to find the pieces. We are also building new dressers, so there are piles all over the place. The organized OCD woman inside of me weeps..
So.. I didn't come up with much for you this week. My best outift usually comes on Sunday when I actually have time to spend getting myself dolled up for church. I was actually told on Sunday that a woman wanted to pin my outfit to her Pinterest.
To that woman, thank you. You made my day. You have no idea!
Anyway, here you go!
Linking up to: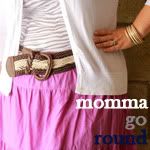 Cleaning day:
(We don't have a standing mirror right now... so, this is all I could do.)
Sweatshirt- Target
Tank- Old Navy
(I was wearing..)
Dark skinny jeans- Old Navy
Black knock off Toms.
Church-
Necklace- Made by me.
(It has a leaf with resin poured in a small plate.)
Top- Old Navy (2.50)
Belt- Target, free from my Grandma
Skirt- Free, sent to me by my friend
Tess
.
Frye Boots- Christmas present from my awesome husband.